The challenge
Dell Boomi has been predominantly positioned as a horizontal play. Its cloud-native tech is a perfect fit for the, then upcoming, 'Open Banking' revolution, and after the regulation was implemented. Most banks were already implementing programmes for PSD2, ahead of the January 2018 deadline, and awareness of Dell Boomi's specific offerings was low in the Financial Sector. Therefore, Dell Boomi needed to demonstrate its relevance to C-Level conversations and that it can ease the burden of integrating disparate systems that need to work together quickly and seamlessly.
Our response
What was needed was a blend of Account Based Marketing or Lead Gen in the short term and Thought leadership to boost brand awareness over the longer term. Positive thus created a campaign to place Dell Boomi into the heart of the ongoing PSD2/Regtech conversation. This integrated (online and offline), multi-asset, multi vehicle campaign was based on differentiated Thought Leadership and was executed with intensity across EMEA. We presented banks' current approach to PSD2 as 'only the beginning' and Boomi's as 'future proof'.
The results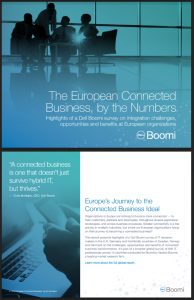 – Core asset, infographics, blogs a core eBook asset, customised for three lead countries (UK, D, FR).
– LinkedIn prospecting, campaign content offered early by Boomi sales team via personal LinkedIn Mail messages, email marketing