Sep 2019
Your Autumn reading list. TL;DR?
Written by Paul Maher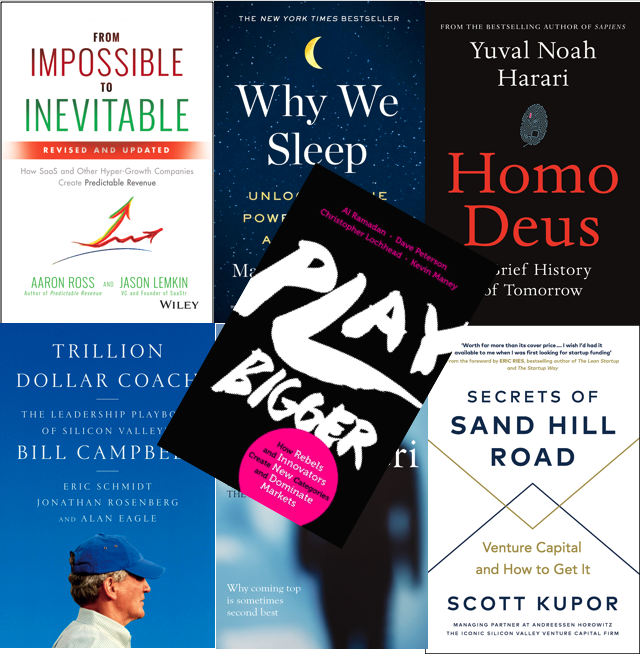 Let's talk Tech PR reading. As we return to our desks and head into the quarter where more enterprise tech is sold than in any other, the books we read on our holidays may challenge our assumptions and give us new resolutions. But what about those we did not quite get to on the sun lounger or with our sun-downers? 
There are only so many days in any holiday and downtime is supposed to be just that. In addition, many business books can provoke Too Long; Didn't Read (TL;DR) syndrome, especially compared to the delights of social media. So it may very well be we read different books on our vacation than you. 
Here, then, In Case You Missed It (ICYMI), is our take on those business tomes we took away with us. We hope reading our irreverent summaries maximises your precious reading time, even more, valuable during this busy time of the year, where annual sales targets have to be hit now or never.
We like to take inspiration from lots of sources. Our library includes management books and span topics from psychology to business law, human brain biology and dream interpretation to Middle East politics and the existence of God. They also include one re-read, but hey, everyone needs to Play Bigger.
Secrets of Sand Hill Road – Scott Kupor
What's it about?

Scott is the 'other' brain in the world's most prolific VC firm, Andreeson Horowitz alongside its 'name on the door' founders. His Legal brains close more deals in a year than entire countries. This is a real insider look on 'How to' fund your startup, the pros and the many cons which lie in wait of unwitting founders. 

Why bother to read?

This book will help you understand why Silicon Valley has become such a flywheel of innovation and the petri dish for exciting Category leaders in B2B technology. A 'must-read' for anyone seeking VC funding or deciding on employee share options. 

Why leave on the shelf?

While starting strong the inevitable complexity of private funding rounds and shareholder politics starts to slow the pace of the narrative. The core subject is, after all, corporate finance and corporate law. The intensity at which it is read will correlate exactly with your company's funding needs.
Impossible to Inevitable – Aaron Ross and Jason Lemkin
What's it about?

– Lemkin and Ross have impeccable startup sales credentials at Salesforce and others. They claim to have developed foolproof systems for rapid growth, the sort that creates Category Leaders and to lay it all out in this much-feted book.  

Why bother to read?

Sales are the beating heart of any business. Making and growing business in a SaaS world, where customer can and do walk away at any time, requires constant forward motion. These experts are sharing their hard-won expertise.

Why leave on the shelf? –

If you have built or worked for a SaaS business some of this thinking will not be brand new to you. If you believe business success requires continuous learning this book is ideal to 'dip in and out a shelf as sales leaders need to.
Play Bigger – Lochhead et al
What's it about?

– The instant classic 'How to' guide from the inventors of Category Design for B2B Tech. Lochhead's humour sings out in this story of making it big, by thinking even bigger. A must-read for tech entrepreneurs looking to make a dent in this fast-moving, attention-deprived industry. No guilt about shamelessly re-including this.

Why bother to read?

Still the best read on B2B Category creation on the planet. Wittily written and with more advice packed in than is given in most management degree courses. Silicon Valley startups often read just two books. If you have to read one, this is it.

Why leave on the shelf?

European tech leaders skip this at your peril. The style though is very US and some struggle to make the equation between the fast-growth US and global startups. If you cannot 'read across', pay the price for the many European events to learn the same thing – albeit more expensively and slower.
Homo Deus – Yuval Harari
What's it about?

The futurist writer who plays to sold-out theatres globally on the state of mankind today takes a step into our AI-reliant future. If you agree that mankind is evolving, as you would from reading his previous book, Homo Sapiens, you need to know what happens next, right?

Why bother to read?

Bragging rights. Most readers pick up this book, because Homo Sapiens, was so groundbreakingly different and an instant classic. The ideas here will for sure be reformatted by so-called progressive politicians for decades. Harari has clout.

Why leave on the shelf?

Not as fast-paced and nimble as his previous best-seller. Perhaps sign the creative juices around humanism and modern society and geopolitics are running low. Maybe better to start and stop with Homo Sapiens and move on.
Consiglieri (leading from the shadows) – Richard Hytner
What's it about?  

– Anyone shadowing Europe's leading 'MadMan', Sir Martin Sorrell, as this author did for over a decade at global dinosaur WPP, should know a thing a two about life in the trenches. Not all of us should, or can, lead. This book looks deeply at the understudies, the lieutenants or as Hytner calls them mafia-style, Consiglieris, of business.

Why bother to read?

Very few books have ever been written about the crucial roles which report directly to the 'stars' who lead businesses. This one rings true and guides well with plentiful examples for the less emotionally intelligent.

Why leave on the shelf?

An annoying use of A, to represent leaders and C, for Consiglieri or trusted advisor, is at times hard to follow. Examples are mostly British sportspeople and politicians. A little harsher editing and perhaps an illustration would make the, very quotable, advice easier to follow. 
Trillion Dollar Coach – Eric Schmidt
What's it about?

– The hagiography of Eric Schmidt who clearly had massive influence as the tech industry was being formed. In fact, this 'secret weapon' was shared by many top executive teams in the valley as a top advisor, especially on human factors and team performance. Remarkable because his background was in sports psychology, not engineering.

Why bother to read?

The inspirational practical advice makes the book the tech successor to Carnegie's classic 'How to win friends and influence people'. If you need to work on your Emotional Intelligence, the Why and the How of 'love your team' is clearly set out and argued for. 

Why leave on the shelf?

Some question if US-style people management skills are teachable, or even fully applicable to those who are not 'inside baseball', living full time in the Valley, or even the US. The main protagonist, whose legacy is beyond doubt when you read the testimonials in the text, has now passed, making a lot of the breathless admiration seem a little nostalgic. A skim read for most.
Why we sleep – Matthew Walker
What's it about?

The current hot topic of 'woke' execs is how to get a good kip. If you eat healthily and exercise, this is the next part of staying sharper for longer. If you're fascinated by how science and dream interpretation come together, this is a must-read.

Why bother to read?

The only book where the author is OK with you falling asleep during reading it – because it will consolidate the learnings. Sleep may be the final frontier in the race to elongate life and its quality, making this a must-read if you care about you.

Why leave on the shelf?

Some Europeans regard sleep and sleep tech as the latest US health fad, after diet and exercise. There are some depressing, fact-based learnings contained here around the link to dementia and cancer, but also some great science-based advice which could change your life. This book will help you sleep at night guaranteed. 
Hopefully our mini 'book club' will help you decide what to keep at hand and on the nightstand as you heed the 'no smartphone at bedtime' rule. Let us know which books you rate and we will include them in our next roundup. 
If you want to see how Positive has changed as a result of all these learnings, feel free to contact us.