Jun 2020
IN2SABRE 2020 – Positive takes Certificate of Excellence
Written by Paul Maher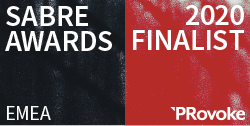 Last year, Positive took home the 2019 IN2SABRE award for Best in Digital/Print Media, Earned, you may have heard us mention it once or twice.
Obviously, this was a huge moment of pride for us, and our client SonicWall. A year has passed since then and a lot has happened. We've been focused on delivering award-winning results for our clients, we have moved to bigger and better premises with our awesome team, and we've also managed to carve out some time for fun.
In that time, we submitted for another SABRE award, this time in the Technology: Software & Services Category. We didn't win, but we gained an IN2SABRE Certificate of Excellence instead. Wahoo! ?
The 2020 IN2SABRE Awards EMEA shortlist included around 400 campaigns, selected from among more than 600 entries in this year's competition, which recognises Superior Achievement in Branding, Reputation and Engagement. The campaigns were evaluated by a jury of industry leaders. So, needless to say, even though we didn't, this still feels like a win.
Our client, Sectigo, needs a mention here, too. Its amazing Marketing team has enabled us to gain such sterling results for them; we did not earn this honourable mention on our own.
Making the Internet Safe Again
Today's cybersecurity space is packed. For vendors, cutting through the cyber noise is no walk in the park. For internet users, the internet is not the safe place it once seemed. Sectigo approached Positive to help it gain Share of Voice against core competitors Venafi, DigiCert and GlobalSign. Positive advised moving away from low-value publications with little reach into national, business and core technology publications. Positive helped Sectigo develop trendjacking stories based on topics where Sectigo experts stood out. Positive desk-researched the security status of top travel and banking sites, created infographics and shared with the media through pitching. This proactively created news, rather than just reacting to it. This hidden knowledge proved fascinating to the fact-obsessed and hype-averse national and business press – gaining coverage in high-value titles.
Since January 2019, Positive has secured over 145 dedicated articles in titles including The BBC, The Independent, The New Statesman, The Register and Information Age. In addition, Positive continues to achieve regular technology trade coverage in Computer Weekly, CBR, SC Magazine, IoT Now and ComputerWorld UK. Sectigo ALWAYS has something relevant and compelling to say to the UK press. On any one day, Positive drives up to nine pieces of coverage for Sectigo.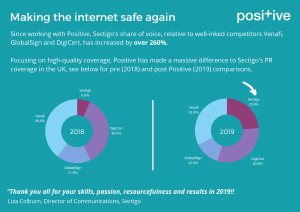 Needless to say, we're super proud of the work we've created with our excellent team, and also with Sectigo.
Speak to us if you want to create an award-winning campaign. We'd be happy to share our experience and ideas!