Sep 2019
Positive talks to: David Chamberlin, CMO, SonicWall
Written by Paul Maher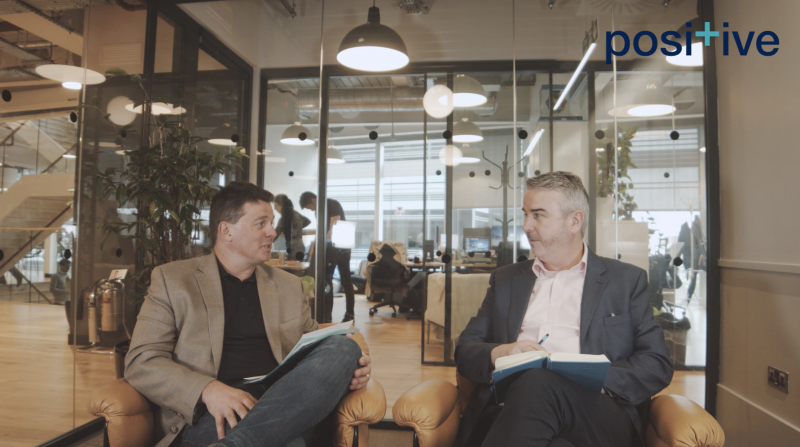 Being a CMO is not easy work. With great power comes great responsibility. The list of responsibilities a CMO has is increasing by the day.
Today's digital CMO needs to stay scrappy. Agencies today need to help CMOs and their teams achieve the goals set out. We sat down with David Chamberlin, VP and CMO of SonicWall, to find out what his day-to-day role involves, how he addresses the challenges he faces and what it takes to be a successful CMO today.
Too long to watch? (TL;2W)
For those of you who are time-poor and don't want to watch a 10-minute long video, don't worry, we've got your back. Below you'll find some short clips of our conversation with the CMO of our client SonicWall.
Want to find out more about how we think? Get in touch! We'd love to hear from you.
What does it take to be a B2B technology CMO?
Banking vs. B2B tech marketing
What's the difference between B2B and B2C marketing?
What does the B2B tech marketing team of today look like? 
What do you look for in a team?
Why is PR so important to you? 
About David Chamberlin
David's award-winning experience includes having served as: the Chief Marketing Officer for one of the world's leading providers of cyber defense solutions; the Chief Communications Officer for one of the largest diversified financial services institutions in the US; the General Manager for two offices (Shanghai, China and Dallas) of an int'l consulting agency; an in-house consultant and VP of corporate communications at one of the nation's most prestigious IT firms where he oversaw marketing and employee communications, advertising, and community, government and public relations; the head of global communications a $30+ billion global telecom leader; and the head of public relations and partner communications for the world's largest issuer of credit cards with managed loans of $142.3 billion.
He has worked in a number of industries and has focused on developing global and domestic communications programs and teams that take advantage of his extensive experience in co-branding; community and constituent relations; data privacy and security; public affairs; gov't, media and public relations; social media; employee, executive, corporate and financial communications; crisis and issues management; product and services marketing; and corporate and financial communications in a number of the world's markets.
He currently serves as a member of the Responsible Information Management (RIM) Council at the Ponemon Institute, a privacy, data protection and information security think tank. He has served on the board of directors for the Dallas Regional Chamber of Commerce.