Mar 2018
Fourth Industrial Revolution: a revolution by word and design
Written by Paul Maher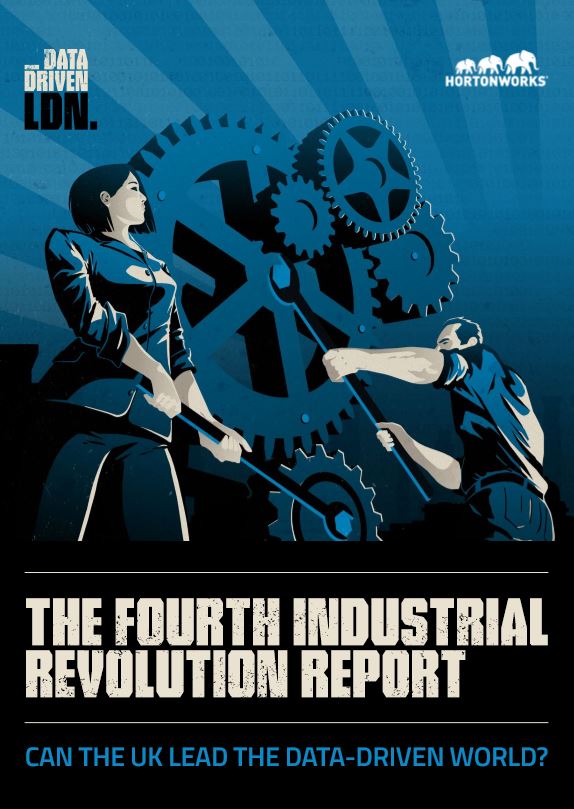 Today, we are living in the Fourth Industrial Revolution, one that is powered by data analytics and machine learning. Like its predecessors, the current revolution will usher in progress, define new business processes, design job roles never conceived before and create real-world wealth. Like in the other revolutions, technology is at the core and at Big Data LDN, Positive Marketing developed a Point of View for UK Technology Leaders which explained how UK organisations could get the best out of their talent, technology and processes.
However, word alone does not make a Point of View bold and big enough to capture the imagination of 5,000 people attending Big Data LDN. To make Big Data LDN 2017 even more successful, it needed a progressive Point of View and a tone of voice to match.
Designing and delivering a revolutionary Point of View
To develop an alternative point of view, Positive Marketing set up a 4IR steering group of UK Tech Leaders whose illustrious backgrounds included data leadership at organisations such as Marks and Spencer, Network Rail and Southern Water.
The group provided a first-hand view of data-related struggles and successes found within UK businesses. The market issues below were first identified, we then took these themes and surveyed 250 Data Leaders at large UK organisations to understand what their thoughts were:
What is the UK's role in the face of this new wave of data-driven global upheaval?

Which skills and which technologies do we need to make sure, this is not the first industrial revolution which Britain misses out on?

How will regulations and Brexit affect the tech talent pool?
Positive Marketing analysed the survey findings and created a Point of View for the Fourth Industrial Revolution Report. We had a big influence on the creation of the report, assisting in the copywriting as well as advising on the graphical layout of the content to make the Point of View digestible for readers. The fresh research data was also used for digital marketing to attract more attendees to go to the Big Data LDN conference. 
In November 2017, the Fourth Industrial Revolution Report was launched in front of a packed conference room at Big Data LDN where the findings were debated by the members of the 4IR steering group. Having an alternative Point of View which showed how the UK can be successful in the 4IR helped Big Data LDN beat its previous event attendance record.
There is no doubt the 4IR is here to stay and we watch with eager anticipation to see which UK companies are making the big steps on this journey. As with every previous industrial revolution, some will win and some will lose.
For those who missed out on the launch, here are the three tips for UK organisations to succeed in the 4IR:
Create and deliver data strategy which is communicated throughout the organisation

Look internally for 4IR talent first as they already understand the business model

Assess your current technology stack to see if there is a place for strategic data management technologies
Within the first month of publishing, the report had nearly 1,000 downloads and providing Big Data LDN with content to set up 2018 marketing campaigns. How well are UK organisations doing on 4IR, let's reassess later this year at Big Data LDN 2018.
To find out more about the work we have done with Big Data London or other content projects, please do get in touch – [email protected]