The challenge
When Positive began working with Big Data LDN, it was a new technology-focused show for London, featuring an information-rich and free-to-attend conference track with a sponsors' exhibition space. As with any new event, the challenge was twofold: bringing the right level of content together and attracting sufficient visitors to create leads for the sponsors.
Our response
Content plays a vital role in attracting sponsors and visitors ahead of the show, as well as providing value during the show and ensuring rebookings for the following year.
Ahead of each event, Positive dropped press releases over the wire to alert visitors and media to the upcoming event. Thought leadership articles on topics, such as data protection and data ethics, have contributed to raising awareness in the months leading to the event.
In the past two years, Positive has also created and led independent research for Big Data LDN, which resulted in a core asset creation and press relations.
The results
Positive generated coverage based on press releases, report findings and journalists who attended the event. The Fourth Industrial Revolution Report, gauging the views of UK data leaders on the data skills gap, technology investments and the impact of Brexit, was largely successful. The 2018 report had a staggering XX downloads. Positive even got the UK Government to support Big Data LDN's cause two years in a row by engaging with MP Alan Mak, who led the first ever debate on the Fourth Industrial Revolution (4IR) in Parliament, founded the All-Party Parliamentary Group on the 4IR and formally launched it with the Chancellor Philip Hammond.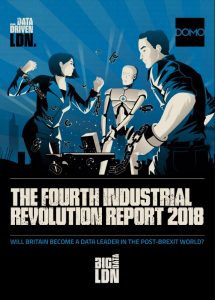 Big Data LDN 2017 hosted over 5,000 in attendance. The report launch and Women in Tech panel session gathered the most crowds. The event and report generated coverage in the The Financial Times, London Post, ZDNet, Computer Business Review, Silicon, Computer Weekly, DataIQ, IT Pro Portal, Fintech Finance and Global Banking and Business Review, among other publications.
Big Data LDN 2018 hit a new record, attracting over 7,000 data enthusiasts. Press in attendance included journalists from The London Evening Standard, ZDNet, Verdict, Computer Weekly, Information Age, DataIQ, Data Economy, IBS Intelligence and IDC. Further coverage was secured in Information Age three times, IBS Intelligence four times, Les Echo Executive and Computer Business Review.
Positive's work in the months leading up to the 2018 event resulted in coverage in The Daily Express twice, SC Magazine, Silicon, Government Computing, Information Age, Computer Weekly, Channel Eye, Retail Times, Tech Radar and IT Pro Portal.