The challenge
Gender diversity, gender pay and the class ceiling are often debated in the media. The technology industry, where female role models are traditionally few and far between, has been under a heavy spotlight.
The debate around women's role in technology was started by a now former Google employee who published a memo containing an unfortunate series of not well-informed observations related to the company's diversity programmes. To add, there is still a significant pay gap in the IT and tech sector. A Deloitte study put the overall gender pay gap at 9.4%, and 8% for STEM job roles (science, tech, engineering and mathematics).
Positive client, Altify, helps coach the next generation of sales and marketing leaders and its technology already helps companies like BT, Sage and Honeywell earn more money worldwide. Altify had in-depth research about how a diverse workforce improves business performance and Positive spotted an opportunity to secure press coverage.
Our response
Positive convinced and coached Altify's leadership team to combine the data they have on diversity to the news agenda.
Altify's study found 70 percent of senior executives believe a diversity policy impacts the business performance of their organisation and 78 percent of businesses with great diversity retain the customers they want to.
As the issue was focused within the IT industry, Positive identified the most relevant UK technology writers on the topic of diversity and fast-followed the news cycle by showing how businesses can improve their performance if they had a more gender and racially diverse workforce.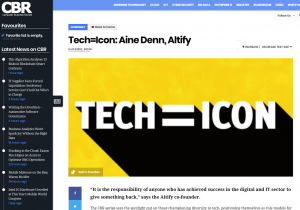 The results
Using the new information from Altify, Positive was able to secure interviews with UK Tech Titles such as CBR and DataIQ, as well as secure coverage in UKTN.